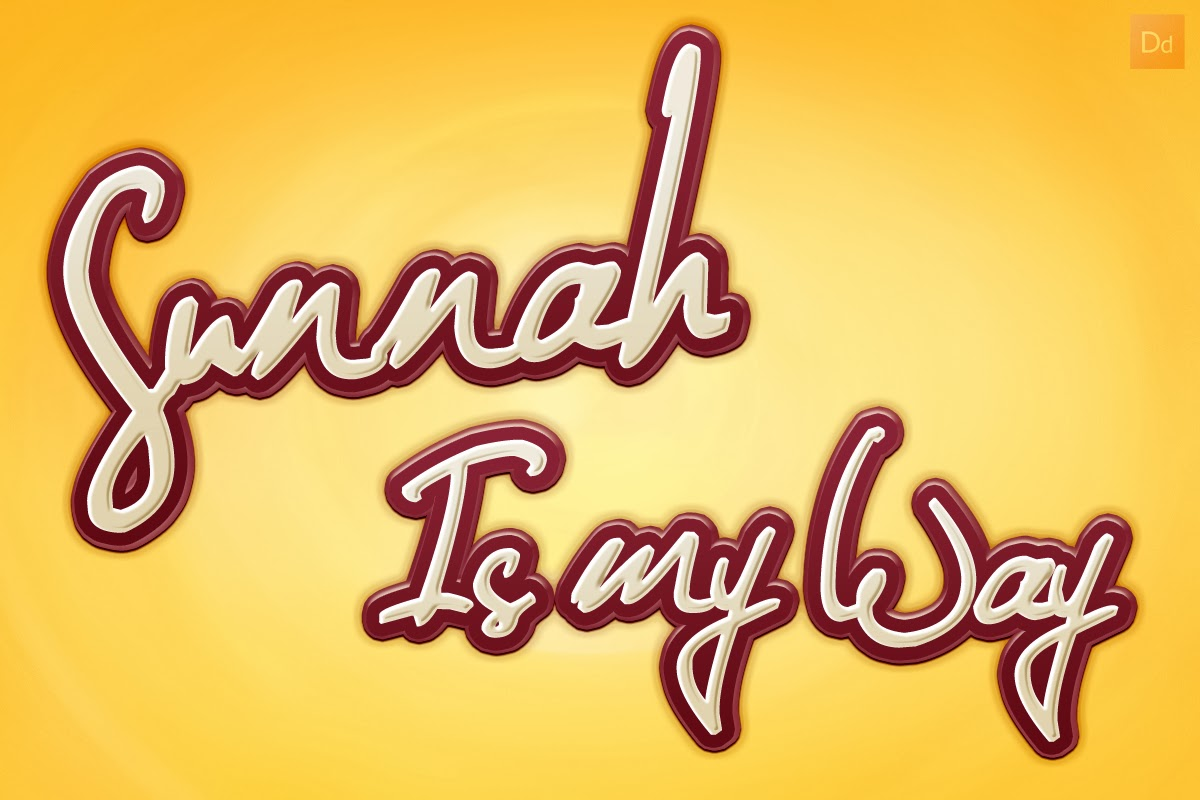 Sumber Gambar
---
Dear friends, we very often say that we love the Messenger of Allah Shallallahu'alaihi Wasallam, it is fitting that because of his services Shallallahu'alaihi Wasallam we can leave the era of jahilliyah. But how should we behave towards the Prophet Shallallahu'alaihi Wasallam, isn't it that following all his sunnah is a manifestation of our love for him.
There are a number of things that we often leave behind regarding sunnah, even though it is so easy to apply in our daily lives, just need habituation. Let's look at some of the sunnah which are as follows:
Spitting to the Left
We are often haphazard in doing this, just spitting out the important things out of the mouth. Even though we can easily turn our faces towards the left and we have followed the sunnah of the prophet.
Share Cuisine to Neighbors
For mom's and ladies, this is very important to note, not only can you strengthen ties with neighbors, this is also the sunnah of the prophet girls.
Say Greetings to Little Children
For those who like to take a walk do not underestimate small children who are playing, scold greet them with a greeting.
Leave the Debate
The debate is not recommended by the Prophet Sallallaahu'alaihi Wasallam, so we better avoid it. Moreover, the coachman debate in various social media that has no end, not just a waste but also the same as not useful at all.
Hugging the Returning Home
Don't feel weird or uncomfortable with a hug from a fellow Muslim, because this is recommended by our prophet. But remember don't just hug, give a hug to the muhrim ya friend.
Facing Khatib Friday
Directing the view of the face towards the pulpit, or looking at the preacher who speaks is sunnah, so don't sleep when the preacher is talking hehe.
Don't Tell a Nightmare
We are of course very afraid of nightmares so we choose to tell others with an estimate so that we can be relieved after telling them. But do you know that not telling a nightmare is a sunnah.
Treat Friends
It turns out that paying friends or treating it is sunnah guys, imagine that you already like your friends because they treat them to continue to get the sunnah reward again. So do not hesitate to treat friends, do not be afraid to reduce money because God has guaranteed our sustenance.
Use Footwear from the Right
Now this is another trivial problem that we often ignore, in using sandals, there is a way to achieve reward. So from now on let's make it a habit for us to wear sandals using our right foot first.
Robe Sweeps the Floor
One more specifically for women, don't be afraid your clothes are dirty because they are dragged on the floor, because the long robes sweeping the floor are sunnah. How is unclean, isn't the clothes that are too limping down will be unclean? This is not a problem because the next land will purify it.
That is the ten sunnahs from the Messenger of Allah Muhammad Sallallaahu'alaihi Wasallam that we often forget, even though all of them are very easy to apply in our lives. If you are not familiar with these things, let's make it a habit to show our love for the beloved Prophet Muhammad Shallallahu'alaihi Wasallam.
Let's we do sunnah!

Bahasa
Wahai sahabat sekalian, kita sangat sering mengatakan bahwasanya kita begitu mencintai Rasulullah Shallallahu'alaihi Wasallam,memang sudah sepatutnya demikian karena jasa beliau Shallallahu'alaihi Wasallamlah kita bisa hengkang dari zaman jahilliyah. Namun bagaimana sikap kita seharusnya terhadap Nabi Shallallahu'alaihi Wasallam, bukankah dengan mengikuti segala sunnahnya merupakan salah perwujudan cinta kita kepada beliau.
Ada beberapa hal yang sering kita tinggalkan mengenai sunnah yang padahal begitu mudah kita terapkan dalam kehidupan sehari-sehari, hanya butuh pembiasaan saja. Mari kita simak beberapa sunnah tersebut yang diantaranya adalah sebagai berikut:
Meludah ke Kiri
Kita seringkali serampangan dalam melakukan hal ini, seenaknya saja meludah yang penting keluar dari mulut. Padahal dengan mudah kita bisa memalingkan wajah ke arah kiri dan kita telah mengikuti sunnah nabi.
Berbagi Masakan ke Tetangga
Untuk para ibu-ibu dan ladies-ladies hal ini sangat penting untuk diperhatikan, bukan hanya dapat mempererat tali silaturrahmi dengan tetangga, ini juga merupakan sunnah nabi lo.
Mengucap Salam kepada Anak Kecil
Bagi yang suka jalan-jalan jangan sepelekan anak kecil yang sedang bermain, tegur sapalah mereka dengan sebuah salam.
Tinggalkan Debat
Debat sangat tidak dianjurkan oleh Rasulullah Shallallahu'alaihi Wasallam, jadi lebih baik kita hindari. Apalagi debat kusir diberbagai media sosial yang tiada ujungnya, bukan hanya membuang-buang namun juga sama sekkali tidak bermanfaat.
Memeluk Saudara yang Pulang
Jangan merasa aneh atau risih dengan sebuah pelukan dari sesama muslim, karena hal ini dianjurkan oleh nabi kita. Tapi ingat jangan asal peluk, berikan pelukan untuk yang muhrimnya ya sobat.
Menghadap Khatib Jum'at
Mengarahkan pandangan wajah ke arah mimbar alias memandang khatib yang berbicara adalah sunnah, jadi jangan tidur ketika khatib sedang berbicara hehe.
Jangan Ceritakan Mimpi Buruk
Kita tentu sangat takut dengan mimpi buruk sehingga memilih untuk menceritakannya kepada orang lain dengan perkiraan agar kita dapat lega setelah menceritakannya. Namun tahukah kamu bahwa tidak menceritakan mimpi buruk itu merupakan sunnah.
Traktir Teman
Ternyata membayarin teman alias mentraktir itu sunnah lo, bayangkan deh udah disenangi teman karena mentraktir mereka terus dapat pahala sunnah lagi. Jadi jangan sungkan-sungkan untuk mentraktir teman, jangan takut berkurang uang karena Allah telah menjamin rezeki kita.
Pakai Sendal Kanan Dahulu
Nah ini lagi masalah sepele yang sering banget kita abaikan, dalam menggunakan sendal saja ada caranya untuk meraih pahala. Jadi mulai sekarang mari kita biasakan diri kita untuk memakai sendal menggunakan kaki kanan terlebih dahulu.
Gamis Menyapu Lantai
Satu lagi terkhusus untuk kaum hawa ini, jangan takut pakaian mu kotor karena terseret-seret dilantai, karena gamis yang panjangnya sampai menyapu lantai itu sunnah. Bagiman dengan najis, bukankah pakaian yang telalu menjulur kebawah akan terkena najis? Ini bukanlah persoalan karena tanah berikutnya akan menyucikannya.
Itulah sepuluh sunnah dari Rasulullah Shallallahu'alaihi Wasallamyang sering kita lupakan, padahal kesemuanya sangat mudah untuk kita terapkan dalam kehidupan kita. Jika belum terbiasa dengan hal-hal tersebut mari kita biasakan dengan menunjukkan kecintaan kita kepada Nabi tercinta Muhammad Shallallahu'alaihi Wasallam.
Yuuk kita kerjakan sunnah!
---
Thanks For Visit My Blog @coretan